Easily customize WooCommerce shop, product & Account pages!
StoreCustomizer makes it easy to customize all WooCommerce shop, product, checkout & account pages, all live, from within the WP Customizer.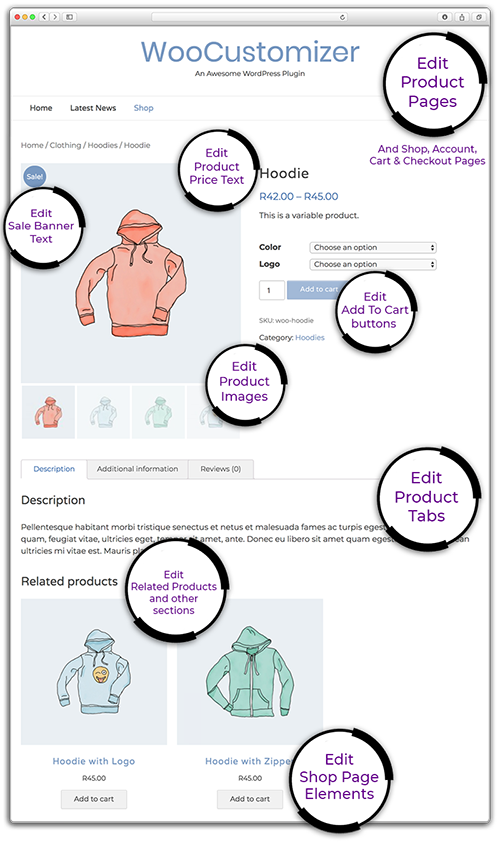 No coding knowledge needed
Easily Customize your WooCommerce Store!
Features you'll get to further Customize your online WooCommerce store
See all the features we've built into StoreCustomizer FREE,
with the option to upgrade and get lots more features you're sure to love!
Customize WooCommerce with free features given in StoreCustomizer !

Edit Products Per Page
Adjust how many Products are displayed per page on your WooCommerce Shop Pages.

Edit Product Columns
Adjust your WC Shop & Archive pages to show the selected columns amount per row.

Remove Shop Page Elements
Remove all types of elements from the WooCommerce Shop, Archive & Product pages.
Edit Sale! banner text
Edit the Shop and Archive sale banners to have your own text for the products on sale!

Edit Add To Cart button text
Edit the Add To Cart button text for simple products, variable products and grouped products.
Remove WC Breadcrumbs
Remove the WooCommerce breadcrumbs on Shop pages and/or Product pages.
Add Product Statistics to show on front-end for Administrator Users
Optional extra to display a block of the recent statistics for Administrator Users to easily view each products recent sales amount.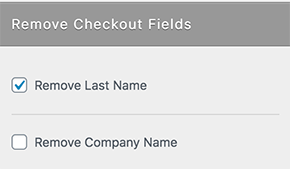 Remove Shipping & Billing Fields on WooCommerce Checkout Page
StoreCustomizer offers extra settings to remove certain input fields on the Checkout Page for when a user is purchasing products.
Customize WooCommerce product pages to look exactly as you want !

Edit Product Gallery
Turn of product gallery features such as Image Zoom, Image Lightbox and the Image Slider.

Remove Product Page Elements
Remove all types of Product Page elements from Product Title to SKU & lots more.
Edit / Remove Product Tabs
Edit each Product Tabs text to your own heading, or simply remove the product tab.
Edit Related Product Sections
Edit Related and Recommended Product section headings or remove the sections as you want.
Edit Product Text Parts
Edit different product status texts from 'Out of Stock' products to available products.

Add the Long Description After
The option to remove all product page tabs and still show/add the Product long descriptions after.
Show Product Amount Sold
Turn on the option to display how many products have already been sold + how many are left.
Add a Back To Shop button
Add in an extra button to send your users straight back to the shop from the Product page.
Add Price Suffix
Add in extra text after the price to explain more, such as "$18.00 including VAT", etc.
Customize WooCommerce Cart, Checkout & Account Pages too !

Edit Empty Cart Page
Add custom text to your empty cart page to explain more if your users haven't added products.

Remove Order Notes
Clean up your checkout page by removing the Order Extra Notes section.
Show Neater Account Tabs
If your theme doesn't design the default tabs... we do, simply select a neater tab design.
Ensure Security for Customers
Add an image to the checkout page to ensure your customers of a secure payment.
Add Text under Place Order
Add in extra text under the checkout Place Order button to for customers to read.
Remove Shop Page Elements
Remove the coupons section on the cart page, or edit the text for cart coupons drop down.
That's not all ! There is more...
We've just mentioned some of the features you can use to customize your WooCommerce shop pages.
Try StoreCustomizer & see for yourself !
Performance & Speed
Only adds the required code
Usability & Design
Intuitive and very user friendly
StoreCustomizer only includes and uses the code you choose to use.
We've focused on speed and usability for StoreCustomizer, ensuring it works well for you!
StoreCustomizer is featured on
Sites & Companies we have partenered with